10 min read
Warranty Fraud Management Book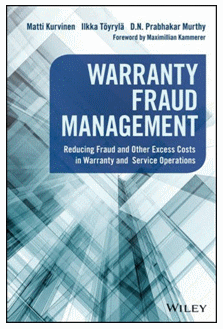 Although technology - connectivity, analytics, sensors - has changed a lot and enabled OEMs to implement much tighter controls and detect fraudulent behavior, the general picture looks quite unchanged and warranty fraud continues to be a challenge.
The strategic importance of warranty management has increased and the general maturity of the warranty profession in the industry has improved during the past 15 years. However, the battle against warranty fraud continues to be a challenge for many warranty professionals.
Depending on the source, fraudulent warranty claims occupy an estimated 3% to 15% of the average company's warranty costs, which generally average between 1% and 4% of product sales. In individual companies, these figures can be much higher. Even at the low end of the range this translates to several billion US dollars globally. This means that both warranty and warranty fraud are major issues.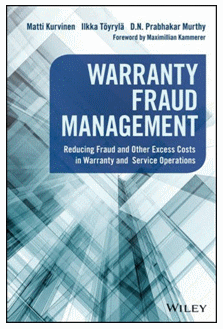 There is vast literature on warranty management in general, but very little on warranty fraud management. Together with Professor Pra Murthy, we aim to fill this gap by publishing the book Warranty Fraud Management: Reducing Fraud and Other Excess Costs in Warranty and Service Operations (ISBN: 978-1-119-22388-7). The book takes a holistic picture of warranty management in general and warranty fraud management in particular, and brings the theoretical and practical perspectives together.
The focus of the book is to assist manufacturers, maintenance, and extended warranty and service contract providers to effectively manage warranty fraud through detection and avoidance. In addition to dealing with fraud, the book provides practical tools for controlling other excess costs caused, for example, by poorly drafted contracts or employee sloppiness or competence issues. More specifically, it addresses the following questions:
What is the topology of the most common known fraud scenarios, who are the actors, what are their motivations and who are the victims?


What are the methods to tackle the known and also the unknown scenarios of fraud?


What are the building blocks required for structured warranty fraud management?


How to get started and how to implement a warranty fraud reduction initiative?
In this article we will provide a brief overview of warranty fraud management and the book topics.

A significant extra burden often goes unnoticed
The Oxford Dictionary defines fraud as "Wrongful or criminal deception intended to result in financial or personal gain." So it is intentional trickery, to get dishonest financial or other advantage over others. Deriving from that, warranty fraud can be defined as any act committed to obtain financial or personal gain from warranty process. There are a number of real-life examples of warranty fraud.
An automotive OEM observed that several automotive dealers were charging both the customer and the manufacturer for the same repair. This happened when mileage had reached the limit after which warranty expires. These dealers rightly charged the customer, but also sent a warranty service claim to the manufacturer with a somewhat lower mileage, making the repair look like a warranty repair.
In another case, a manufacturer observed that a service agent had submitted about 10,000 repair claims again, three to four months after the original repairs were claimed.
In a third case, an industrial equipment manufacturer noticed that a power limiter had been removed, causing an engine failure, but the customer still wanted a warranty service for the engine.
Although the list of examples could go on endlessly, many companies seem to believe that "warranty fraud is a serious problem, but not for us," as illustrated by the following case.
In a Pan-European after-sales process assessment conducted for a multi-national manufacturer, one finding was that the warranty costs across countries within the company were not consistent, taking into account the general cost levels and sales volumes. A closer study revealed further inconsistencies and bigger anomalies, comparing different service agents inside each country.
The initiated fraud detection activities had almost instant results. Many service agents had over the years learned to work-around the seemingly loose controls of the manufacturer, and significant levels of fraud were detected. The manufacturer decided to accelerate the work and widen the focus to other European countries, which yielded similar results.
Even after the compelling results in Europe, there was high level of skepticism in other regions. "Yes, the European results were impressive, but Europe was crap. You are welcome here, but you won't find anything. We know our service agents and our controls are watertight."
After less than two weeks of analytics on the regional data in Asia, there was enough evidence of fraud (and high warranty costs) leading to the implementation of improvement programs similar to those in Europe, followed by other regions.
During the implementation, there were many surprises, as diverse fraudulent activities were uncovered. This came as a shock to many of the local customer service managers. "I have been playing golf with this guy every Sunday for the past five years. I can't believe he has been doing this to me," said one customer service manager. We also found cases, where the employees of the company were a part of the scheme, working in collusion with the local service agents, and cases where the fraudulent service agents worked in collusion.
A similar pattern was later found to be repeating in other companies. Often, the possibility of fraud is first firmly denied, with various explanations provided for strange warranty claim patterns, until the facts found prove the issue to be indisputable.
Awareness of different methods of fraud is important as it helps signs of fraud to be detected. In our book we introduce over 50 methods of fraud. They are categorized around four dimensions:
Actors committing warranty fraud -- for example service agents, customers, sales channel and warranty provider employees,
Their victims,
Their motivations (typically avoiding service costs or earning extra income), and
The methods used by the actors to defraud the victims.
Based upon our experience, similar methods of fraud are used across different countries and industries. However, we know that the list is not and will never be complete, as there are many unknown methods and new ones are continuously being invented by fraudsters.
Framework for warranty fraud control
A combination of approaches, tools, and methods is required to detect and prevent warranty fraud. We call this combination the warranty control framework. Having a proper warranty control framework not only improves fraud detection and prevention, but also provides transparency and cost control over warranty management as a whole. The framework is composed of the following four key elements:
Contracts that define the interaction between the warranty provider and the customer, the service agent and other parties in the warranty chain and the rights and duties of each of them. Contractual rules are the basis for customer claim entitlement and service claim validation.


Transaction controls that include processes and methods for handling customer warranty claims and warranty service claims, from the customer issue through servicing and financial settlement of the claim. The main focus is on customer warranty entitlement, service agent claim validation, and material returns control for defective items.


Analytics that assist in identifying claims with high likelihood of being unjustified, whether through fraud, abuse, or sloppy processes, and to identify service agents and/or customers with high propensity to commit fraud.


Service network management that involves setting up a network structure that minimizes fraud opportunities, incentivizes service agents to right behavior, and provides predefined and clear procedures on actions taken if fraud is detected.
In the book, we introduce dozens of contractual rules, and around 100 different entitlement checks, validation rules, and analytics methods to detect and avoid the different types of warranty fraud conducted by different actors.
How to implement a warranty fraud reduction initiative?
Companies often find it difficult to recognize warranty fraud and do something about it. By its nature, fraud is hidden and its exact scale unknown, so many companies are simply not aware of the problem.
For many companies the hurdle from initial suspicion -- after seeing strange patterns in the warranty data -- to really believing that something is wrong and taking confident action is significant.
Also, it is a very sensitive topic. "We don't want to talk about warranty fraud, since the term fraud implies intent, which is an overly harsh statement," said one client executive. "Yes, the numbers from this dealer look really peculiar, but I cannot go and accuse them of being dishonest," said another. People don't want to upset their customers or business partners and are reluctant to asking questions implying they suspect something. Understandably, companies do not want to go public if they have been victims of fraud. Therefore, the issue remains under the radar for other companies.
The third reason we have seen in many client companies is simply the lack of focus, skills and discipline in warranty transactions and analytics. On the high level all processes and policies -- validation rules, claim process, statistical data analysis, customer entitlement, you name it -- seem to be in a good shape, but the devil is in the details. When you dig a bit deeper, you notice big holes here and there.
Warranty control is often a part-time role and the last activity between the person responsible and the weekend. High turnover of and limited induction to the validators often leads to a situation where the processes and controls are defined, but not followed properly. There are also issues with the timeliness and quality of warranty data, with warranty data analysis capabilities and the ability to identify anomalies suggesting fraud.
The combination of the sensitive nature and the difficulty to produce watertight evidence keeps companies hesitant to take action. This keeps them vulnerable as some individuals or companies are ruthlessly taking advantage of the situation.
In the book we provide guidelines for planning and implementing a warranty fraud reduction initiative and for addressing implementation challenges.
The content of an initiative depends on the current status of warranty provider's capabilities. A typical warranty control improvement initiative starts with current status assessment, where gaps in warranty controls are evaluated and evidence of fraud is obtained for example through data analysis. Based on the findings, an improvement plan can be created.
Typically, this includes defining the warranty policies and rules, and control processes, building the organizational, process and IT capabilities and deploying the change within the service network. If the initial assessment brings up signs of fraud, immediate actions can be taken against suspected parties. Often, warranty fraud reduction initiatives are self-funding, as quick savings through reduced fraud can be obtained in early phases of the project.

Conclusion
Warranty Fraud Management introduces a number of real-life examples and diverse cases of fraud that have occurred in the servicing of warranties and maintenance service contracts. Some of them have been quite sophisticated, while in other cases the lack of OEM controls has allowed very basic fraud to go through unnoticed.
Some companies are aware of the problem, but are uncertain of the scale and what they should do about it. Quite a few also deny the existence of the problem in their own company, even after seeing clear evidence of anomalies and abnormal behavior.
We hope that this book will increase awareness of the topic. We also hope that the practical examples and methods provided will help warranty professionals to evaluate control processes and analyze data in their company from the fraud perspective, find concrete evidence and facts about potential issues allowing actions to be taken and gaps in controls to be filled, where necessary.
About the authors:
Ilkka Töyrylä, Dr.Sc., is a partner at Midagon with over twenty years of both industry and consulting experience. His key areas of expertise include service operations and warranty management. His doctoral thesis on traceability studied different opportunities for utilization of item-level product and serial number data, warranty management being one of the application areas. In addition to Midagon, Ilkka has worked for Accenture and Nokia.
Matti Kurvinen is the Managing Director at sd-ize consulting, located in Espoo, Finland, near Helsinki. For 23 years he held a variety of management positions in Accenture, as the Global Lead of the Accenture Warranty Management offering, leading the Nordic Operations consulting practice, and leading the Communications, Media and Technology practice in Finland.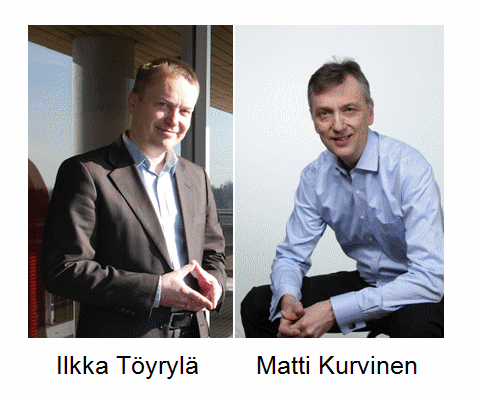 Source: httsp://www.warrantyweek.com/archive/ww20160908.html
BLOG AUTHOR
Ilkka Töyrylä and Matti Kurvinen